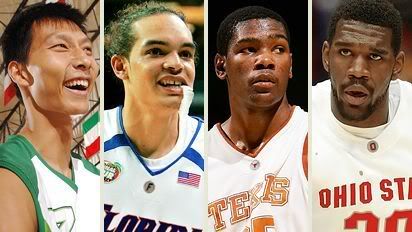 Sadly, the 2007 NBA Draft approaches and the media focus has shifted to Kevin Garnett and who will get him during this offseason. Is it fair to focus on trade rumors rather than the crop of fine talent the teams get to choose from this year?
Perhaps so. I liken Kevin Garnett to Vince Carter. Both players came very highly rated into the NBA. Both received MAJOR sponsor deals. Both were popular with the media. And both were fairly disappointing for years. Both KG and Carter have put up impressive numbers at times, but the NBA is all about winning. If you can't lead your team to a championship, you do not qualify as an elite player.
Kevin Garnett found himself in an awkward situation with Minnesota. He was making so much money that they couldn't afford to surround him with the talent he needed to succeed. That's when you know success isn't about winning… it's about the paycheck. Show me a player who negotiates down to help his team succeed and I'll show you an athlete worth respect. This truth doesn't flow down to all businesses, just in case you were wondering. At some point, the millions of dollars are superfluous and really only amount to bragging rights. Is your life really so much more meaningful or rewarding with $22 million rather than $15 million?
As a show of good faith, however, we'll skip over the obvious point and move on to trade rumors. Who to believe? That is the question. Will Garnett go to the Lakers? Will he go to the Suns? Could he possibly go to Dallas? Will Kobe stay in L.A. if Garnett doesn't make it to town? And how did all my childhood basketball heroes make it into NBA team management positions? That freaks me out. Sorry… off topic.
Teams worth giving up on? With all the unconfirmed trade rumors, the Knicks and Celtics grace the top of the list. Just forget about them. If you are season ticket holders, you undoubtedly make the trip each game to see the opposing team. The Atlanta Hawks would and should make the top of the list of Team Suck, but trade rumors indicate the slight possibility of Amare Stoudamire playing for the birds next year, which would launch them to playoff hopeful for the first time since… well, I have no idea. That's how long.
I'd love to see Kevin Garnett or Kevin Durant playing in a Mavericks' uniform this fall. Chances of that happening? Slim to none. Why would one of the two suckiest teams in the West give up their only star? How could Dallas manage to maneuver into a top 5 pick in order to be considered in a Garnett trade deal? It just won't happen. Wish all you want. I will too. But in the end, if the Mavericks trade for anyone, it will likely be random guy from random team whom we the fans never even thought about.
Don't worry, Dallas. All is not lost. The Great White Hype may yet lead us on to greatness….