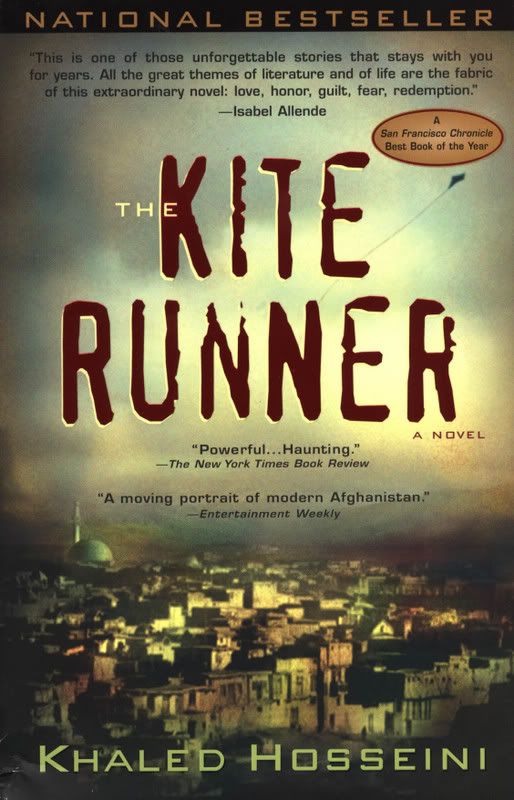 The Kite Runner is the first novel by Khaled Hosseini, a surprising fact considering the masterful way in which this novel has been crafted. Although Hosseini now resides in California, he spent his childhood in Afghanistan, which lends authenticity to his work. The Kite Runner is a study in contrasts. It graphically depicts life in Afghanistan during the monarchy and then after the revolution when the Taliban takes control. The compelling themes of cowardice versus courage, betrayal versus loyalty, discrimination versus privilege, and guilt versus redemption make this book appealing to adults everywhere.
Amir, a native Afghani, is the narrator of the story. Hassan, the son of a servant and social outcast, is Amir's friend. Together they spend their days outdoors playing games, telling stories, and even flying kites. When Hassan helps Amir win a kite-flying contest, Amir hopes that the win will finally gain his father's approval. Then he discovers Hassan in an alley suffering abuse at the hands of several racists who want to steal the kite. Hassan protects the kite for his friend, but Amir runs away in cowardice neglecting his friend to save the kite. When guilt consumes him, Amir shuts Hassan out of his life. Amir and his father relocate to California, giving Amir a new start. However, his guilt continues to haunt him.
Years later, after graduating from college and getting married, Amir is called back to Afghanistan by an old family friend. The man tells him that Hassan was actually his half-brother, and that Hassan and his wife were shot in the street by the Taliban. Hassan's son Sohrab was sent off to an orphanage and then taken prisoner by the same man that had tortured Hassan in the alley many years ago – the day that Amir betrayed him. Amir takes the opportunity to redeem himself by risking his life to save Hassan's son. And Hassan's son becomes his son.
There are few books that exist that cause you to change as you read them. You see the world differently. You have a better understanding of love and forgiveness. You realize more clearly how your actions affect other people. This is one of those books.
This book evokes feelings of empathy towards both main characters, which is remarkable considering their contrasting natures. Hosseini has done an excellent job of developing the characters and story line. After reading the first line, I was hooked. Hosseini begins the book with Amir as an older man stating, "I became what I am today at the age of twelve." The flashback adds interest to the story.
My concern was that this novel would have some type of political agenda, but that was not the case. The political climate of the country was stated as fact and used merely to show contrast and to establish the setting. Native phrases are used throughout the book, but most are defined or explained by the context.
This book is beneficial because it forces the reader to face difficult topics such as racism, cruelty, and guilt. But rather than being just another tragic tale, a feeling of hope remains. Hassan is able to overcome the blights of abuse and betrayal, yet still remain constant and forgiving. Amir triumphs over fear and guilt, proving himself worthy and honorable. This book was so impacting and poignant that it will be forever imprinted upon my soul. And through love, forgiveness, and redemption we find that, as Hosseini implies, "there is a way to be good again."