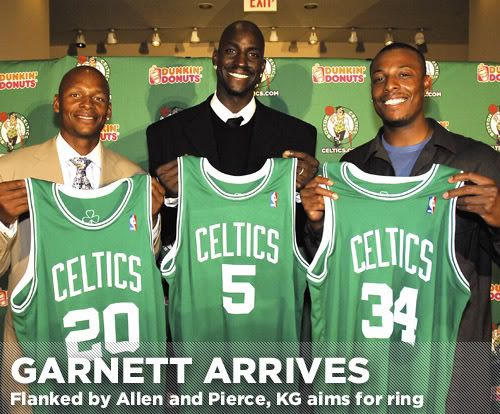 Who would have thought a lottery team that lost more games than they won would be the favorite to win the East in 2007-2008 upcoming season? How did this happen?
Two franchises in the West completely blew up their rosters and are rebuilding around younger talent, while Boston created a three-headed green machine in Ray Allen, Kevin Garnett, and Paul Pierce. All three are notable All-Stars all who were the centers of attention on their former teams. While Boston fans have reason to hope for amazing things, the question remains: can these three super stars co-exist?
Absolutely. None of them have ever been in a situation where the pressure was shared by anyone else. I think that all three will thrive in this environment. All three are respected NBA vets, and at this point in their careers, they will set their egos aside and play fundamentally unselfish basketball.
The closest experience Allen, Garnett, and Pierce have ever had to this situation was during All-Star games. These NBA superstars are rejuvenated and ready to go. But wait! There is a downside for Boston: all three of these guys are in there thirties, so this is only a temporary quick fix. It's likely to be a 2 year window of opportunity, so they had better get it done in that time frame.
Who can compete w/ Boston in the East? Only a few teams have a chance. Detroit? Not likely. Their best chance at the title is over! Lebron and his JV squad are also not likely. Last year was a fluke. Chicago? They're a player and a younger less offensive Ben Wallace away from being a contender. Still, Chicago is a step above most teams in the East – mostly because of good hardnose coaching and young talent.
The only thing keeping Boston from winning a whole bunch of games and taking the weak East would be injuries. Hopefully I am not chewing my foot off come May.
Here is a look at there new rotation:
Point Guard – Rajon Rondo
Shooting Guard – Ray Allen
Small Forward – Paul Pierce
Power Forward – Kevin Garnett
Center – Olowokandi

Look for Danny Ainge now that he has saved his job to sign some free agents if the cap allows it. THEY DESPERATELY NEED A POINT GUARD!

I also hear that Dale Harris is available and looking to come out of retirement early.