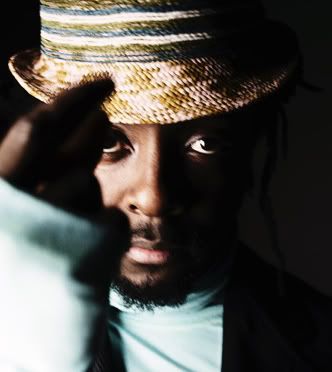 Will.i.am, leader of the Black Eyed Peas, called in to the Kidd Kraddick in the Morning show today. He called from Korea, where the band is on an unbelievably comprehensive Pepsi concert tour. Tour locations include Korea, Kazakhstan, Moscow, Poland, China, India, Ethiopia, Ghana, Brazil, Guatemala, Nicaragua, Mexico City, and at least ten other countries worldwide.
During the phone interview, Will discussed the upcoming release of his new album, "Songs About Girls", scheduled for release September 25, 2007. The Peas' new single, "I Got it from my Mama" is now available online.
Will disclosed to Kidd Kraddick that his mentor is Michael Jackson. Will is helping Jackson out on his newest album. Will was the driving force behind Fergie's solo debut album, which they recorded on a bus during the Black Eyed Peas "Monkey Business" tour.
From a marketer's perspective, it was fascinating to hear Will.i.am's take on the current state of the music industry. Kidd Kraddick asked Will about his goals for the new album, which brought up the subject. While the last album sold some 15 million copies, Will admits that the same standards cannot be held in today's consumer economy. While he didn't outright mention iTunes, it can be assumed that online music stores such as iTunes and free file sharing website applications like BitTorrent and LimeWire have completely transformed the music biz landscape.
Will says he no longer measures success by the number of albums sold, (since millions of fans will go online and buy singles only or download illegally) but instead he is participating in a new concept gives the fan/user the power to make money off of the Black Eyed Peas new album as an affiliate marketer.
A new media player will be available for download that each person can place on their favorite social media sites (MySpace, Hi5, Facebook, Blogger, etc). This player will allow visitors to purchase and download the songs directly from the player widget, and the person who posted the player receives a percentage of the sales profits.
It sounds like a brilliant way to take thousands of fans who would normally download for free and turn them into entrepreneurs who will actively seek to help spread the gospel of Will. Of course, with the record will only appeal to a certain demographic, but this could mark a new business proposition for dozens of labels in the future. Imagine if the most popular MySpace profiles sell thousands of music downloads from hundreds of artists. Social media suddenly takes on a new face. The competition would be fierce, and social media marketing efforts would intensify as the average joe enters the fray and attempts to compete for music download dollars.
But Will is the face of the new thing. Put the power of affiliate sales (think Mary Kay) into the hands of the people, and see how far the people can take your business. It is very likely to work only in a limited number of business verticals. Of course, people are already making money from affiliate advertising/sales. But turn the widgets into mini emarkets and you have a million little stores everywhere, all competing for the same market. The oversaturation would eventually be the cause of its demise, but an intelligent marketing strategy could put the power of sales or increased eshop products into the hands of a select few (a thousand or so) successful sellers. Limit the number of people who can sell so that the widgets/players/stores don't become so common that people ignore them just like banner ads.
A lot of potential here. It will be interesting to see how this concept develops, and whether the music industry jumps on board to save itself.