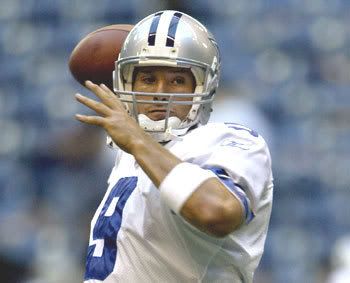 Despite what some naysayers have said recently about Tony Romo, those of us enlightened individuals know better. He is no Jake Delhomme. He is the great Tony Romo, and I'd buy TeamRomo.com and start a Dallas Cowboy's blog if I could (tonyromo.net IS apparently for sale for $500, but i hate .nets).
Some will say he hasn't proven himself yet. Fine. But I happen to respect Joe Theismann and Joe says that Dallas has found a gem in Tony Romo. He likes what he sees out of his ability to throw and run and make things happen for this team. Joe Theismann just happens to be one of the most hallowed quarterbacks in the history of the NFL. He's been analyzing quarterbacks for decades. I think he knows what he's talking about. And when he took the initiative to point out to Randy Galloway yesterday on ESPN Radio that Dallas has a gem in Romo, people should listen.
Of course, Romo hasn't won a playoff game yet. He HAS rebounded from intense criticism and failure thus far. That dropped snap was bad last year, even though it didn't actually cost Dallas the game. According to Bill Parcells, in his recent interview with Babe Laufenberg, the team had one more chance to stop Seattle in that game and get the win. So even Parcells post-Cowboys doesn't think Romo cost Dallas the game. He could easily have thrown Tony under the bus without directly insulting him.
Granted, Romo can't run like Vince Young. Maybe he can't pass like Tom Brady (though I'll never admit it). But he is a total package thus far. He has shown us no reason to doubt him. One dropped snap last year and a few less productive games under Parcells is no indictment against him.
Tony has made it through the first two weeks relatively unscathed without wide receiver Terry Glenn. As soon as Glenn comes back, assuming he's healthy, there's no reason why Romo can't keep this up. In fact, we might be seeing success thus far as a result of Glenn's injury. Don't get me wrong. Terry Glenn is DEFINITELY an asset. But Terrell Owens wants the ball. He wants his stats. With fewer stars, Owens is happier because he gets more of the spotlight. And as long as he produces like he has these first two games, that works out just fine.
It's true that we haven't seen Romo in enough games to claim he's the best in the league. Even I won't make that statement YET. He'd have to have two solid seasons before he can be compared with the best in the league. I WILL say that Romo is my favorite quarterback to watch (which is only slightly affected by my geographic location).
There is a difference between talent and greatness. We have seen Tony's talent. That much is certain. It will take time and some serious winning to prove greatness. But don't you worry. Tony Romo looks like the real deal.