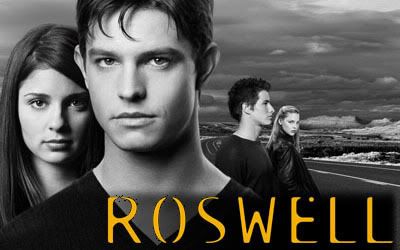 I can't remember why exactly I ended up watching Roswell reruns. Oh wait! Now I do. It was because of my beloved StumbleUpon. I stumbled upon a site where you can watch tv reruns and movies for free via streaming video. Roswell was on the list, and I couldn't help but watch.
Roswell was that one show that Heather and I bonded over in college. We'd go over to her mom's house and watch it while Heather devoured more buttered popcorn than any 110 pound model should be allowed. To be fair, sometimes it was cookies.
She was also into Felicity, but I only caught maybe two episodes. College was actually one of those periods of life when I watched very little television. Movies were another story, but television was definitely NOT a priority.
I loved Roswell. Several things I attribute to the show: 1) introducing me to Dido and the awesome song, "Here With Me;" 2) being the first series I saw that overtly promoted the bands and songs used for each episode; 3) giving Heather and I something new and fun to enjoy together.
Watching it slowly all over again, the plot is still entertaining, but the dialogue and plot are at times a little more juvenile than i remember. There are moments when a character gets all flustered over something petty.
I love the show, and I wish they had continued more than three seasons. My wife insists that I don't wish it had continued because of what happens in season three. Guess I'll wait to see what happens again before I disagree with her. I do remember that the pregnant girl from LOST shows up at some point as the fourth alien.
Honestly, I want to know why Jason Behr and Brandon Fehr aren't leading men in other series or films. They are charismatic and intriguing actors. I get that sad feeling of unrealized potential.
Anyhow, here's to great memories and an excellent first season worth revisiting.