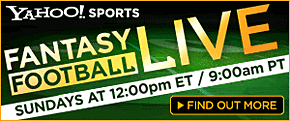 It's an understatement to say that my first experience with fantasy football began with a whimper, not a bang. One week into the 2007-2008 NFL season, Aaron asks me to fill in the last slot in their fantasy football league. Fantasy leagues have been a sort of mystery to me. I've known about them for the past five years, but never cared to learn more.
I've been a little curious, though, so I agreed to give this a shot. I followed the email link to Yahoo! Sports and created my team – the DoubleDs. Learning as I went, I set up my personal preferences for my team's draft order. I ranked quarterbacks, running backs, wide receivers, tight ends, and team defenses (forgetting all about kickers). I had my preferences set for the automatic draft, only to find out that some guys can't be present for the draft and apparently can't figure out that an automatic draft means that they don't actually have to be there. So I get the news that we're postponing the fantasy league draft another week.
Two days ago, I hear from Aaron that there are "technical difficulties" with Yahoo! that will require us to join a chat room and do a manual draft. Technical difficulties in this instance means that someone doesn't understand the Internet and how to use it.
The end result is that I, the guy who had his players ranked for the automatic draft, end up being the only guy who gets screwed. I couldn't make it to the manual draft because my wife and I have a pregnancy class to attend on Saturday afternoons.
THE RESULT:
I get home on Saturday evening to find that I am stuck with Matt L., Matt H. and Matt S. as my quarterbacks. I have no decent wide receivers. My tight end is a loser. The only plus is that I have Adrian Peterson, Clinton Portis, and the Steelers defense. Luckily, I managed to find Dallas Clark available and picked him up as my starting tight end.
In the end, I have a 5 or 6 out of 10 while at least two other teams in my fantasy league are 8s. It doesn't matter much to me, except that I now see how Fantasy Football COULD be fun (assuming you actually get to pick your players).
A word of advice: don't join a league where the other guys don't know how to use the Internet. Other people's lack of expertise could bite you in the ass.